@glassgob's Commissions
Current Status: opening soon! hopefully!!
Contact Me: [email protected] or through social media/discord dms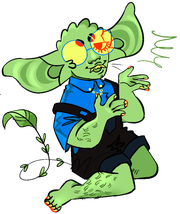 Prices
Paypal preferred, prices differ for Kofi

Complexity may increase price

Complex backgrounds will increase price

Characters without visual ref: +$20
---
Icon
[square canvas, just head + shoulders]
Monochrome: $35
Color: $45
---
Busts
[vertical canvas, one or two hands usually included]Monochrome: $50
Color: $65
---
Waist-UpMonochrome: $50
Color: $80
---
FullbodyMonochrome: $70
Color: $100
---
Character DesignsColor Fullbody: $120+
Ref Sheets: DM for inquiry
Terms of Service
---
I can draw: anthro furries, portraits, gore, body horror, ocs, fanart, dnd characters, nonsexual nudity, full illustrationsI won't draw: explicit nsfw, p\dophilia, inc\st, racist imagery, antisemitic imagery, morally wrong stuffI am unfamiliar with complicated mechs and feral designs, but I am willing to try!
---
All artwork is non-commercially priced and should only be used for noncommercial purposes.

I am willing to do commercial work but prices will be modified based on the commission's requirements.

I will only start working on a commission after I receive the full or partial payment.

I reserve the right to decline any commission.

Commissions are fully refundable until I start the commission. After that, it is partially refundable until it is finished.

Don't send a payment before communicating with me (unless it is a kofi donation).

I reserve the right to any artwork I post.

Please credit @glassgoblin on twitter when posting the commission elsewhere.